FAAI Project Meeting has been conducted online
Regular online meeting (December 6, 2022, 14:00-15:30 CET) has gathered the representatives of the partners to the Steering Team and Quality Assurance Team. The meeting was a natural continuation of the online meeting in October and Kick-Off meeting on November, 7-8. Agenda included the crucial topics of the project management (WP1) and the implementation of WP2.
The meeting was started from the discussion of the partnership agreement. For the purpose of the successful implementation of the project it was offered by the Steering Team to include the detailed tasks to the bilateral agreements.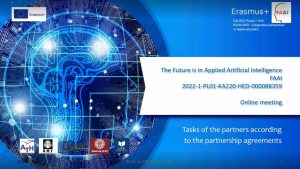 A special attention was paid  to the requirements for the forming corresponding primary and secondary target groups.
The  AdminProject was presented as new platform for the purpose of the project management. There was demonstrated the basic facilities of the system, which enable us the essential improvement of the project management and implementation.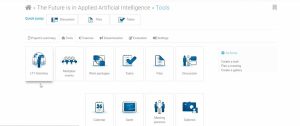 The new platform faai.ath.edu.pl was presented, that incorporating both project website and the facilities of Smart AI Job Hub.