UBB at International trainings in digital pedagogy co-financed by the EU
UBB at International trainings in digital pedagogy co-financed by the EU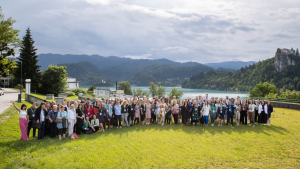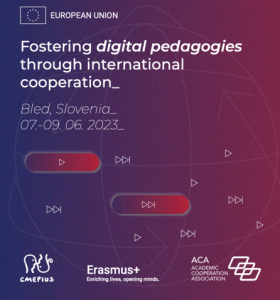 While the use of digitalization tools and strategies in teaching and learning methods brings many benefits, progress is uneven and there is a need to improve practices in online methods, identify the "success and quality characteristics" of pedagogical practices, and help improve and inform the move towards a new paradigm educational.
In recent years, the university authorities, in particular the Faculty of Mechanical Engineering and Computer Science, have been paying attention to the development and implementation of innovative educational technologies. As a result, VR and IoT computer rooms equipped with modern equipment were created.
On June 7-9, in Bled (Slovenia), the International Training in Digital Pedagogy organized by the European Commission took place. The training was attended by representatives of Erasmus+ National Agencies and coordinators of relevant projects.
The aim of the training "Fostering digital pedagogies through international cooperation" was to share experiences and best practices in the use of digital pedagogy to strengthen international teaching and learning activities regarding student mobility and new mobility formats, COIL, joint programs, etc.
The event lasted two days and included expert panels with discussions on relevant European policies and funding opportunities and best practice presentations, exploring methodologies, added value and relevant challenges. The conference also provided a dedicated space for lab sessions, giving attendees the opportunity to exchange ideas, start thinking, and possibly develop new design ideas together with the help of experts.
Poland was represented by a team of 5 people led by the coordinator of the Team for Partnerships in the Higher Education Office of the FRSE, Ms. Anna Bielecka, who gave a paper on "Funding opportunities under Erasmus+ for digital pedagogies", which contributed to a serious discussion.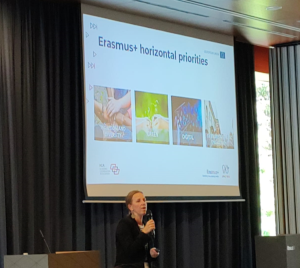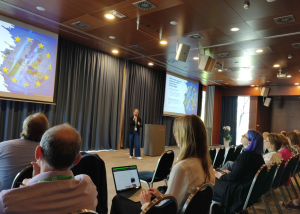 The University of Bielsko Biala was represented by the Head of the Department of Computer Science and Automation, prof. dr hab. Vasyl Martsenyuk, who has been coordinating Erasmus+ educational projects in recent years, including those related to digital pedagogy. Here it is worth mentioning the Erasmus+ 2022-1-PL01-KA220-HED-000088359 project entitled "The Future is in Applied Artificial Intelligence" (FAAI), coordinated by ATH and which aims to connect universities and enterprises in order to: a) fill the current gap in artificial intelligence digital skills; b) build an ecosystem of key partners in AAI; d) promote business opportunities, via AI Job Hub (https://faai.ath.edu.pl), between universities and IT companies; е) support the creation of AI education curricula.

During the laboratory session Vasyl Martsenyuk suggested the title of the pilot project "AI-pedagogy for teachers". A team of representatives from Slovenia, Portugal, Finland and Poland worked on the preparation of the exercise project application.
Based on discussions, panels and presentations of best practices, participants gained experience in researching problems and the potential of the latest innovations in the field of education development and international cooperation.